Woodfern Florist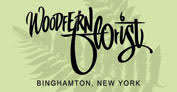 $50.00
$30.00
Sold Out
Remaining: 0
Woodfern Florist - located at 501 Chenango Street in Binghamton, NY - is your locally owned and operated florist specializing in custom designed floral arrangements for your everyday occasions, weddings, and corporate events!
Stop in, see our newly remodeled showroom, and browse beautiful flowers from around the world!
This gift certificate is redeemable IN STORE ONLY - NO SALES BY PHONE PLEASE!
Limit 1 gift certificate per transaction.
**MUST BRING CERTIFICATE TO EQUINOX BROADCASTING LOCATION TO REDDEM FOR GIFT CARD
You can only make one item purchase at a time.
You will be taken to a page which will give you an option to login to your PayPal account to complete your purchase. You don't have to have a PayPal account to make your purchase. You can choose to checkout without a PayPal account and use your Debit/Credit Card.
If you call our participating advertisers with questions about their deal, please reference your "Equinox Broadcasting Sweet Deal Certificate"
Purchases are made on a first come, first serve basis.
You may use one certificate per transaction/visit - unless otherwise specified.
ALL SALES ARE FINAL AND ARE NON-TRANSFERABLE.
Each certificate is individually numbered and associated with your billing information to prevent duplication.
Equinox Broadcasting is not responsible for the closure of any business or ownership/management changes that may prevent you from using your certificate.
Questions can be directed to us by calling 607-772-1005 or by EMAIL.