Listen on Alexa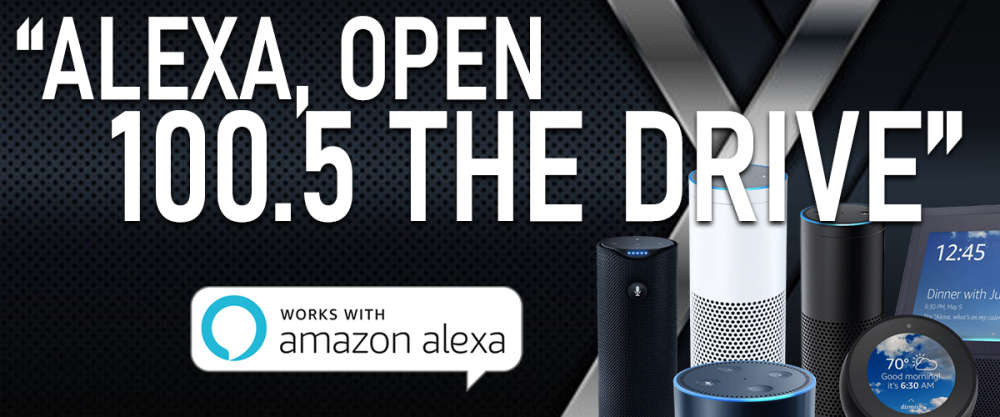 Now you can listen to 100.5 The Drive easily on your Amazon Echo!
You can now listen and enjoy 100.5 The Drive on your Amazon Echo, Amazon Echo Dot, Amazon Echo Show or any other Alexa enabled device!
Here's how you enable the 100.5 The Drive Skill on your Echo Device…
Step #1) Download the FREE Alexa app
Step #2) Enable our Skill
Option 1 - Enable with your voice - say "Alexa OPEN 100.5 The Drive SKILL"
Option 2 - Enable via the Alexa App manually
Select "Skills" from the main menu of the app.
Search for 100.5 The Drive. Tap on our logo to get to the 100.5 The Drive skill.
Tap "Enable" to enable the skill.
The skill will now appear in "Your Skills" in the Skills tab!
Now, just say, "Alexa play 100.5 The Drive"
Have fun with your new toy and share your experience with others! If you're having any issues getting Amazon Alexa to play the 100.5 The Drive skill — drop us a note and we'll give you a hand.
*Amazon, Echo, Alexa and all related logos are trademarks of Amazon.com, Inc. or its affiliates.
Why Enable?
Just asking for Alexa to play a radio station can sometimes be frustrating. You don't always get what you ask for. Part of this has to do with the way that Alexa has thousands of radio stations built in. If you enable the 100.5 The Drive Alexa skill you will have one command that will always work.